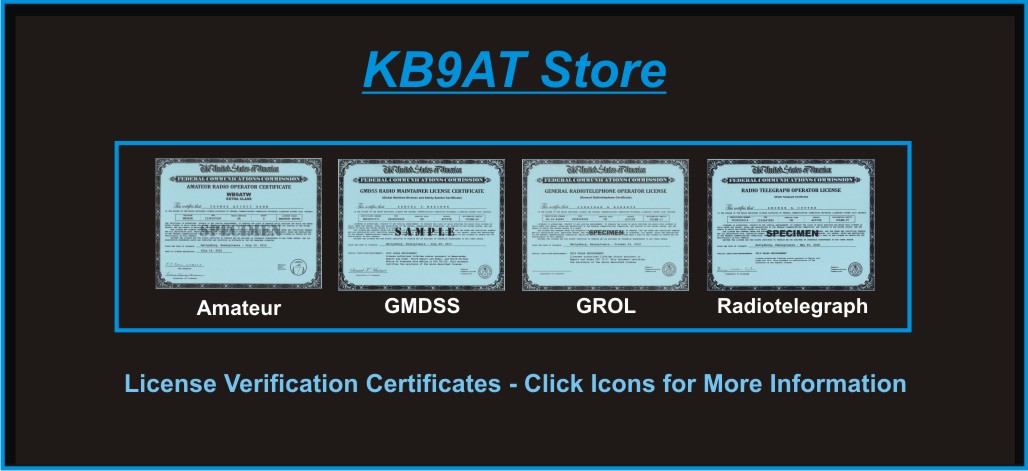 KB9AT Amateur Radio Operator Certificates
As of February, 2015, the Federal Communications Commission (FCC) no longer automatically issues paper Amateur Radio Licenses for either original licenses or for renewals. The commission says the change was required as a cost reduction move and the fact that your license exists in cyberspace satisfies their rules concerning possession and display of licenses. There is a solution however for those who would like a document that attests to the existence of an actual license. It's an operator certificate you can display with pride in your ham shack that mimics the legendary First Class Radiotelephone Operator License. Take a look at the sample below and envision what a custom printed certificate with your information will look like on the wall of your ham shack.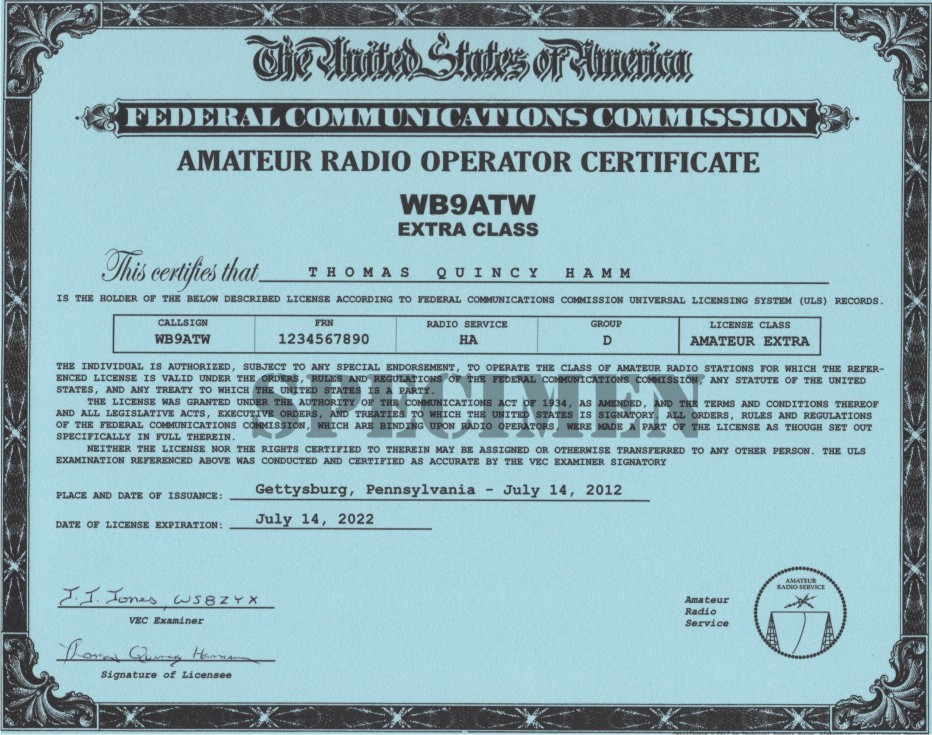 First Class Radiotelephone Operator License History:
Until the 1980s, the FCC issued the most impressive license it ever awarded: the First Class Radiotelephone Operator License. Originally, it was a license required of technical personnel before they were allowed to operate or maintain any broadcast transmitter - commercial, religious or educational. To make its intent even clearer, the FCC decreed that no broadcast transmitter could be operated unless a holder of a First Class Radiotelephone Operator License was present 24/7/365. The license test constituted the most rigorous exam given by the commission and consisted of four progressively more difficult elements. It was hard to obtain and proof that the licensee was a professional RF Broadcast engineer. From that original tight control, things devolved over the years until a license was required only for technical employees at television and directional AM broadcast stations. The die was cast after that happened and by the early 1980s, a licensed broadcast engineer was no longer required at ANY broadcast station. Once the FCC made that decision, it stopped issuing the license.
The KB9AT Amateur Radio Operator Certificate:
In the spirit of the First Phone, KB9AT created a copyrighted certificate (© 2017) patterned after that special license. KB9AT Amateur Radio Operator Certificates are available to Technician, General, Advanced and Amateur Extra class licensees. The cost is $13.95 ppd via First Class Mail for an 8.5" x 11" certificate printed on heavy stock blue vellum paper.* Order yours via Paypal today using the Buy Now button below. The FCC's Universal Licensing System will be researched and your Amateur Radio Operator Certificate will be custom printed in the format used for the First Phone. It will be mailed to the address shown on your Paypal account within three business days. (If you do not have a Paypal account, you can use your credit card via their system without creating an account. Paypal will give us your address but never shares your credit card or account information with us. For our part, we do not share any of your information with anyone.) Your email receipt will show a charge from 'Technical Support Group' - which is KB9AT's company.
Very important: Be certain to enter your amateur call sign in the box below prior to clicking the 'Buy Now' button. Without your call sign, we cannot fill your order.
To check on an order, please send an email to tsgpress@fuse.net with your call sign and the date that Paypal processed your purchase.
For any other questions or comments, please send an email to kb9at@fuse.net.
*Note: Only the Federal Communications Commission can issue a valid license in the amateur radio service. Such a license will always have the official FCC seal printed thereon if it is a paper based license. Beginning in 2015, by its own rules, the FCC can also issue valid licenses totally in cyberspace without actually issuing a paper license. The KB9AT document you are purchasing is an amateur radio operator certificate. It states that an Amateur Radio Operator License has been issued in your name by the FCC. Your agent, a VEC examiner, attests with his signature that the certificate's information is true and correct after personally inspecting your records in the FCC's Universal Licensing System (ULS) database. The certificate does not and cannot confer operating authority on its own - instead, it states that the FCC's ULS database indicates that the person named on the certificate is a licensed amateur radio operator holding the class of license specified on the certificate.